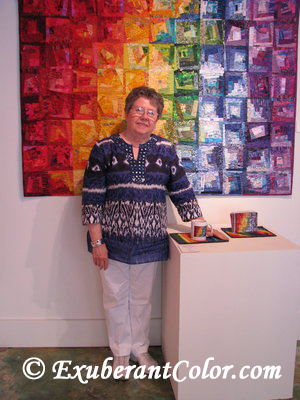 For I Have A Notion™! from Wanda of ExuberantColor.com. Wanda is a friend both online and in real life, and she is also a quilter. No surprise there I'm sure.
Meet Wanda
You may already know Wanda through her blog ExuberantColor.com, or her Colorwash 360 class and quilts. For the record Wanda blogs daily. Mostly about quilting, but she includes some birds, critters, food, plants, friends, and family are thrown into the mix too. However, most days it is about quilting. What she is working on, how she does it, sometimes her inspiration, and always fabric and color! I drop by nearly every day to see what she is working on.
Recently, one of us posted a comment to the other, (I can't remember which one), about the Richard Hemmings #10 Milliners needles and how it is our favorite needle for hand stitching down quilt bindings. I also know some hand stitchers that prefer this needle for 'needle turn applique' as well. Anyway, we also continued with a discussion about some other things we like for particular sewing tasks that are more difficult to find.
Wanda mentioned in our conversation, that a couple of items she prefers are difficult to find, and is often asked by her readers where they can be found. Aside from the Milliners Needles, we talked about John James Long Darning Needles and Mettler White thread for basting.
What Makes Them Must Haves?
Wanda likes the John James Long Darning Needles for hand basting her quilts for quilting on the domestic machine. The long darning needles allow for making large stitches with less hand fatigue than with smaller shorter needles. Wand also uses a different stitch for her basting, which helps keep the sandwich from moving while quilting.
Wanda also likes the Mettler White Thread for basting because it breaks easily when pulled. A big benefit, if it was caught in the quilting stitches. Wanda has written several posts on hand basting a quilt; this post, and this post, and several more are listed under 'Basting' in the Labels on the right side of the page.
So THANK YOU, Wanda, for the boost and for all the quilters that have visited I Have A Notion from the link on Wanda's post! If you have not visited Wanda before you are in for a treat at www.ExuberantColor.com
Beth